DANZA EL VITO RITUAL FIRE DANCE
Combining musical passion and innovative choreography, award-winning concert pianist Nicholas Young, along with 10-string virtuoso classical and flamenco guitarist Matthew Fagan, will be joined by flamenco dancers Laura Uhe and Fernando Mira and percussionist Marek Podstawek to present an exciting new performance at Deakin Edge on Saturday November 9. The performance combines exhilarating traditional flamenco elements of Spanish guitar with classical masterworks, including a flamenco interpretation of Bizet's Carmen. We have five doubles to join the audience for this one-off event. Emails received on mjb2fagan@gmail.com before midnight tonight will register to win.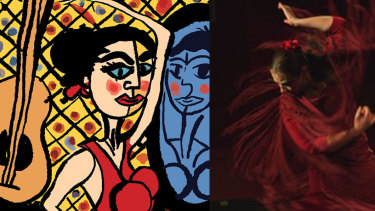 WINNERS
Movie Passes To Pavarotti: Nick Lucas, Heather Gunn, Jan Bates, Faye Skilbeck, Vivian Pryles, Louise Fishman, Joe Imbesi, Berta Brozgul, Peter Biggins, George Greenberg, Barbara Lloyd, Shirley Vallance, Rose Capuano, Catheryn Fitzgerald, George Golvan, Warren Trompf, Penny Repse, Matthew Dalton, Nanette Jack, Lucia Saal.
Queenscliff Music Festival: Stephen Graves and Yashoda Boopalan.
Movie Passes To Mini British Film Festival: Maria Garvey, Helen Meyer, Eugenia Gurrieri, Juc Brewster, Max Robinson, Rob Dixon, Carleen Wheeler, Debbie Millington, Brian Borowsky, Helen Boursinos , Sharon Landers, Julianne de Silva, Kris Johnstone, Dianne Lewis, Dina Karnups, Elizabeth Brozgul, Lynn Paterson, Mary Frost, Cherry Lawson, Tricia Hannah.