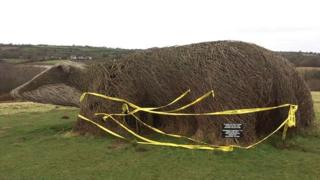 Volunteers and staff say a "senseless" attack on a badger sculpture at a wildlife centre is "disheartening".
The discovery was made at the Welsh Wildlife Centre at Cilgerran in Pembrokeshire on New Year's Day.
It is the latest in a spate of incidents at the site, including an arson attack which destroyed a kingfisher observation hide.
The charity said funding repairs meant there would be less money for wildlife conservation.
"It's very frustrating to work throughout the year and to come and see this happening," said the chair of volunteers at the centre, Keith Thomas.
"There doesn't seem any reason to it. People are very upset."
The large sculpture – called Helyg, which means willow in Welsh – has been at the centre for the last five years.
Parts of the structure have been ripped apart in the attack.
The Wildlife Trust of South and West Wales, which manages the site, said it cannot understand why it has been targeted again.
"It's very sad – we are beyond fathoming out why this keeps happening," said visitor centre manager Mark Hodgson.
"It jeopardises conservation work. If we have to funnel funds back to repair structures, and put in money into funding repairs, that does directly affect the conservation work that we can do in Wales."
The centre said it was expanding its network of CCTV cameras across the site, while police patrols in the area have also been increased.