As Mendes and his four-piece, sounding like KC & The Sunshine Band, launched into the facile Lost In Japan (sample lyric: "Do you got plans tonight?"), the chaperones in this sold-out arena may well have been wondering what all the fuss was about.
Which was exactly as it should be.
For while there is little genuinely new in the boy-girl scenarios and conventional pop-rock  of the Mendes oeuvre, it sure felt new to an audience dominated by teenage girls who rarely stopped yelling and swaying along.
To his credit, like Justin Bieber before him, Mendes is a pop star who can play.
A high-speed strumming intro to Youth, the one strident offering, showed off great guitar technique while the bluesy Where Were You In The Morning?  revealed a student of John Mayer.
Mendes' voice was just as easy on the ear, its default croon interspersed with high notes that never failed to get this crowd's scream-o-meter into the red.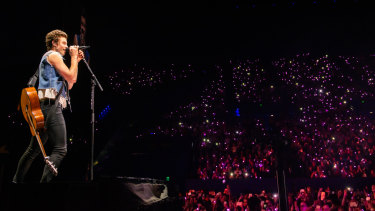 Less certain is whether anyone will remember a Shawn Mendes song in 20 years, apart from the written-by-committee earworm Senorita. (On record a duet with girlfriend Camila Cabello, in her absence this night the mega-hit only got 30 seconds, milked for drama by Mendes as a slow piano intro to a medley.)
For all the surface thrills of There's Nothing Holding Me Back or If I Can't Have You, for instance, and despite everyone here seeming to know their snappy hooks, the banality at their core made them feel disposable.
Meanwhile, two of this night's most distinctive, affecting tunes – the quirky, funky Nervous and conversational Like To Be You – were both penned with Julia Michaels, who could only fill the Enmore Theatre here in September, but is the better songwriter.
However In The Blood, recorded in 2018, showed Mendes may yet be more than a flash-in-the-pan. A power ballad confronting his issues with anxiety, Mendes' long-jump at its soaring conclusion, just as the ticker-tape cannons blasted, was one moment the star seemed to share our euphoria.
Michael Bailey writes on entrepreneurship and the arts. He is also responsible for the Financial Review's Rich Lists. He is based in Sydney.