In the week prior to my visit to South Korea there had been some ominous events. North Korea had just exploded a nuclear device in an underground test, and shortly after there was an unusually powerful 3.5 earthquake in the South.
Korean TV news media calmly advised viewers that there was no reason to link the two events. As my flight approached Incheon Airport in Seoul and passengers filled out a health questionnaire about exposure to SARS, Ebola and Zika, footage played across the aircraft's seatback screens of the country's coastal nuclear power stations all working fine.
In a country of just over 50 million people on a landmass about the size of Victoria, these things are to be taken seriously – and ignored. As my late friend Emil Goh once told me, South Koreans are very good at avoiding thinking about possible catastrophe by thoroughly preparing for it.
I was travelling to the third Changwon Sculpture Biennale, on the southern tip of the Korean peninsula. Put together in just five months on a modest budget of US$1.5 million, the Biennale is a major event for the city. It has the official blessing of Changwon's mayor, who was more than happy to see his official limousine turned into a work of art – courtesy of a sculptor with a power tool, spray paint and tinsel…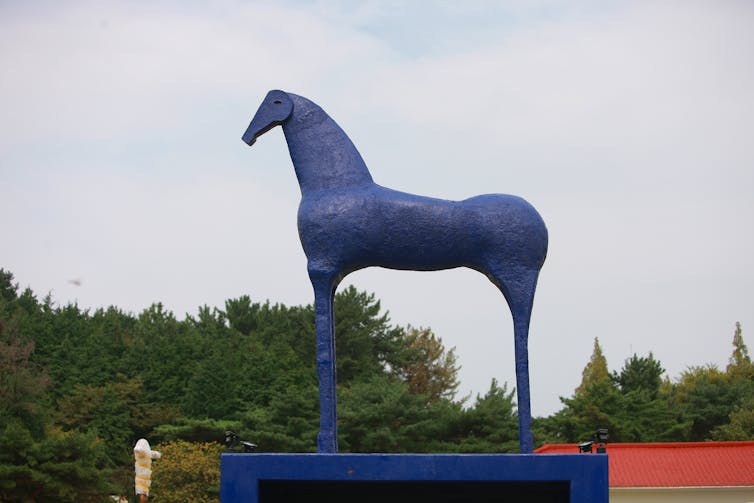 While South Korea already has a number of high profile biennales in Seoul, Gwangju and Busan, Changwon's lesser-known event is focused on a single form named as "sculpture". In practice this includes installations, wall works, video art, performance, photography and even painting and drawing. It is thus one thing but also many other things, which as it turns out, is also the theme of the Biennale: We Create Things, Things Create Us.
Yoon Jin Sup, the biennale's 2016 director, has proposed a two way relationship between art and the audience, where the meaning of a work is created in a dialogue between the object and the viewer, each of whom brings their own assumptions and cultural contexts.
These shifts in meaning are created not just by personal perspective, Yoon argues, but also by the cultural associations we bring to their materials and forms. Citing French philosopher Gaston Bachelard's conception of a world created by the four elements of earth, water, fire and air, Yoon adds two more elements, steel and wood from "oriental philosophy".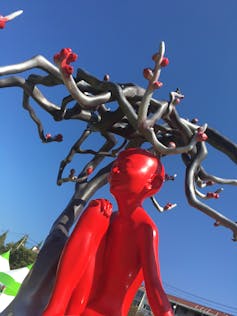 The opening of the Biennale was a major event in Yongji Lake Park, a gracious green space in the middle of the immaculately clean planned city. Dignitaries, artists and international guests sat on plastic chairs in the park as a giant TV screen with feeds from multiple cameras displayed images of the various art works. The city's mayor arrived with a security detail as a drone camera buzzed overhead. Speeches followed with simultaneous English translation.
Then a performance art work began with costumed dancers on a forklift, followed by the ritual destruction of the mayor's limousine by a break-dancing sculptor armed with an angle grinder. Everyone was smiling – and then on to a tour of the park with Yoon Jin Sup.
The collection of works cited in Yongji Park are a curious mixture of the brand new and the fairly recent, including pieces by notable Korean sculptors and Europeans. The overwhelming bias is toward shiny, corporate style sculptures in steel, their curvaceous metal forms going for height over weight.
Celebrated Chinese sculptor Chen Wenling is represented by the relatively small-scale, two metre high Peach Colony No. 3 (2015), a stainless steel object on which strange red figures recline and sit, topped by a sculpted plant. Of the older works, Italian sculptor Mimmo Paladino's Cavallo (2008) is a tall and commanding blue horse that stands atop a plinth, looking back over the lake.
Of the Korean pieces from 2016, an abstract and odd untitled work by Kang Chang Ho stands like the Ark of the Covenant, a stainless steel mesh and paper work that invites a second look for its odd, box-like form and umbrella extensions.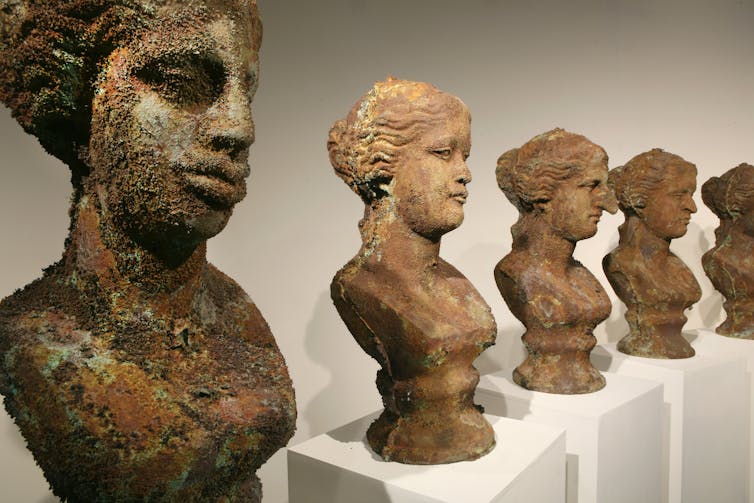 Eventually the walking party headed off toward Sungsan Art Hall where the gallery portion of the show is sited. Korean-American artist Debbie Han's Terms of Beauty (204-11) could be the signature work for the whole Biennale – nine bronze busts of Venus, altered with the addition of racially diverse physical features in lips, eyes and noses. It's a playful work that melds the tradition of Occidental art with an Asian perspective and comes closest to the biennale's theme.
The South Korean artist Mioon is represented by Auditorium (Template A-Z) (2014), a playful gallery of animated shadow puppets inside boxes that create bizarre narrative collisions between abstract objects, tiny figures and looming creatures.
A few works strive for horror; one that really lands its unsettling, uncanny aesthetic is South Korean artist Choi Xoo Ang's Sheddings (2014), a fluorescent lit glass case of body parts, as if they have been sloughed off by the artist as he swaps bodies.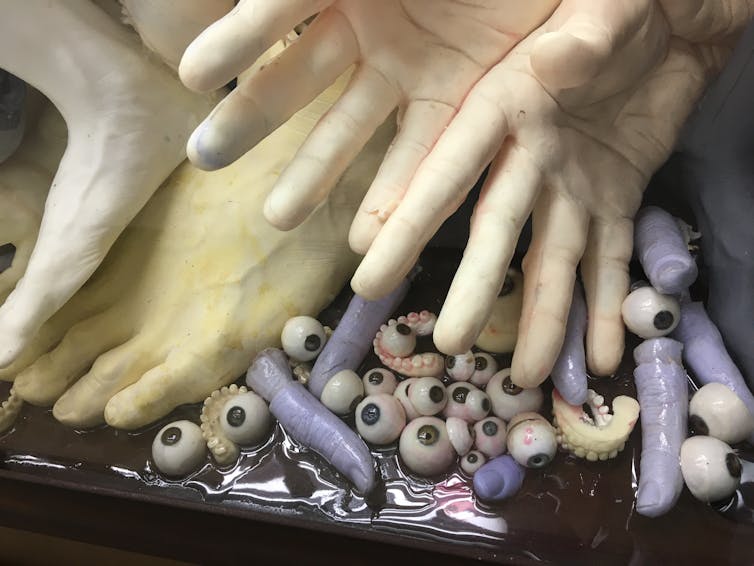 The only Australian in the Biennale is Yvonne Boag, better known at home as a painter, but here represented by small, macabre collage-sculptures of dolls and military toys doing battle.
The next day, after a massive opening banquet with toasts, plentiful wine and some extraordinarily terrible acoustic guitar strumming that was offered up as kind of unofficial entertainment, I am taken to Masan, a neighbouring port city 30 minutes down the road from Changwon.
Unlike its neighbour, Masan was not planned, and it shows – everything that is not industry or commerce is pushed up the steep mountainsides where high-rise apartment buildings loom and the Moonshin Museum hangs precariously on the side of a hill.
The Moonshin is a vanity museum for the late South Korean modernist painter and sculptor Moon Shin. One room of it is dedicated to a series of marble sculptures that have been brought for the Biennale by the Heraux Foundation, an Italian organisation that that processes marble and promotes artists who use it.
With just five works in the room there's not a lot to see – Massimiliano Pelletti's Back to Basic (2014) is a large marble object that seems like a piece of abstract coral until a head, nose and eyes coalesce in my vision as I snapped a photo of it.
Daniele Guidugli's Moby Dick (Vertebra), (2016) is one of the standout works of the whole Biennale, a life size rendering of whale spinal bones, laser-guided cut from marble. The blue and white patterning were like an abstract representation of the sea, an object replete with cultural meanings and aesthetic qualities, and one that can be interpreted by the viewer in numerous ways.
---
The 3rd Changwon Sculpture Biennale is open until October 10, 2016.
Andrew Frost was a guest of the Changwon Sculpture Biennale.