There's obvious potential for drama in the contrast between the two men and in the circumstances of Ratzinger's unexpected resignation from the papacy. But any hope that The Two Popes will offer a credible portrayal of Vatican power politics is quickly dashed.
Based on a stage play by screenwriter Anthony McCarten (Bohemian Rhapsody), the film takes place mostly over the few days in 2012 when Bergoglio came from his native Argentina to Rome.
What ensues is an imagined dialogue between him and Benedict, underwritten by the assumption that viewers will know little or nothing about the pair – so they spend much of their time reciting facts about themselves or each other ("I'm still seen as a divisive figure in Argentina," Bergoglio explains).
Made for Netflix with a loosely progressive audience in mind, the film leaves no doubt whose side we're meant to be on; the central, very sentimental concept is that the chilly Benedict is gradually thawed out by Bergoglio's human warmth.
In practice, however, it's a little different. Hopkins, ham that he is, has had long practice in finding the pathos beneath emotional tone-deafness. On the other hand, Pryce's smiling humility is insufferable – especially when he's delivering homilies with no specific religious content, such as "You know, the world can be chaotic, and there's beauty in that," or "Small pleasures are important".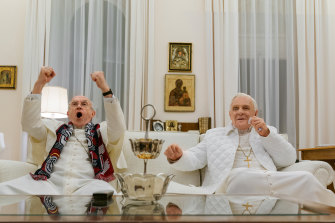 Fernando Meirelles (The Constant Gardener) directs in a tricky, eclectic style with occasional hints of irreverence: a glimpse of Bergoglio from behind a hedge so that only his red hat is visible, or the choice to introduce a conclave of cardinals with an instrumental version of Dancing Queen.
Loading
The scandals surrounding the church in recent years are duly touched on, and there are lengthy flashbacks to Bengoglio's experiences during Argentina's Dirty War – presumably a major reason why Meirelles, an Argentinean himself, embarked on the project.