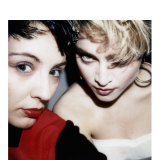 "That's the thing with Polaroids: it washes out all the pimples and lines," says Maripol, who is in Melbourne for the exhibition opening and NGV Gala.
It was Maripol who made over Madonna for her 1984 album Like a Virgin.
"Madonna came to see me basically to revamp [her image]," says Maripol, who moved to New York from France in 1976. She opened own fashion store and gallery in Manhattan, called Maripolitan.
"I mean, somebody called 'Madonna' comes to me, and I'm Christian, she's Christian, I was already making crosses [for jewellery] and I had these rubber bracelets and – as she claimed – I decorated her like a Christmas tree!" Maripol says.
"I sewed everything on that album cover."
Back then, New York was bankrupt and crime and drugs were rife, but the upshot was the dirt cheap rent. "You could do one job a month and the rest of it was time for pure creativity," Maripol says.
"Everybody [in the art scene] was helping each other … night and day, and in the clubs there was an exchange of ideas."
Many of her photos show friends and artists modelling her jewellery and fashion. Haring and Basquiat feature both in the Polaroids and in documentaries that Maripol made. Basquiat was her neighbour.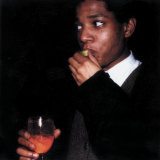 "I always felt protective of him because he was fragile," Maripol says of the painter, who died of a heroin overdose in 1988, aged 27. Haring would die from AIDS less than two years later, aged 31.
"[Basquiat] seemed very strong but he was fragile and tormented and they both had battles. They both were political and they both tried to change the world through their art."
Although their styles are distinct, both began as street artists and their subsequent works share an urgency and energy – a sense of movement and noise – that seems to leap off the gallery walls. Some of the works are painted on sheets of metal or plywood, chalk boards, old doors, tarpaulins, urns – even a baby's crib.
Many of the themes that concerned them are just as relevant today, says Maripol.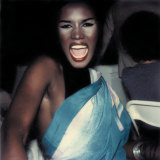 "Haring was very conscious of the environment already," says Maripol.
"Peace, equality, justice, rights for people of different colours … there's a lot of discrepancy [today] between the rich and the poor.
"I'm older now and i feel like nothing has changed and that's really what pisses me off the most."
The main message of the show though, she says, is one of positivity, reflected in the vibrancy of the artworks. "The key to tell the kids nowadays is just be happy," she says.
Decades on, Maripol still takes Polaroids and can be found on Instagram at @maripolarama.
Keith Haring | Jean-Michel Basquiat: Crossing Lines is at NGV International, December 1 to April 13, 2020.
Hannah Francis is Arts Editor at The Age