But according to one philanthropist and regular on the charity circuit, guests attending MCA's Bella Dinner the night before had far deeper pockets when it came to their charitable contributions. The annual Bella Dinner, now in its twelfth year, raises funds to support the gallery's creative learning programs.
"MCA had a far richer crowd and only 180 guests," the spy told Emerald City. "We raised as much as SunSCHine with a much smaller guest list."
Loading
According to the source, auction items from Burberry, Christian Louboutin and Paspaley were in hot demand. Silver Ball chair Maree Andrews, eastern suburbs architect Nick Tobias and gallery owner Tim Olsen were among the guests in the picturesque Harbourside room at MCA.
The Cannon-Brookeses were generous donors that evening as well as gallery owner Roslyn Oxley, society couple and Double Bay retailers Joshua Penn and Benjamin Palmer and talkback presenter Alan Jones, who all helped raise $1 million.
Island heiress to wed a second time
Hamilton Island heiress and brand manager Nicky Oatley is set to say 'I do' a second time.
She and Sydney financier Jonathan Pearce confirmed the engagement news to Emerald City, revealing Pearce had proposed on Oatley's family island in Queensland and they were very happy.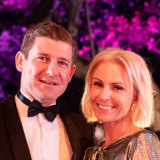 The pair are understood to have been dating for nine months after they were introduced by mutual friends. Oatley shared her big news on Instagram alongside a photo and video of the smitten couple showing off her pear-shaped sparkler. "I said yes to sharing eggs benedict and life in general. Love you JP," she posted.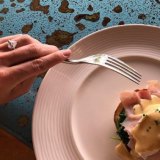 It was only last year Private Sydney reported that Nicky, the granddaughter of Robert 'Bob' Oatley (worth $910 million) had split with her husband, yachtie turned furniture-maker Troy Tindall.
Baby joy for Flight Facilities DJ
Flight Facilities DJ James Lyell is about to take flight on his most exciting venture yet, as the muso will soon become a dad. Lyell, who also goes by his DJ stage name Jimmy2Sox, and his model girlfriend Chelsea Waddell are 16-weeks pregnant with their first child due next year.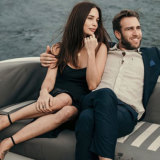 "Chels is pregnant and we're having a boy," he told Emerald City at the Petron pop-up party last Wednesday. "We're so happy and excited, we can't wait to meet him!"
It's no secret Lyell, originally from Queensland's Sunshine Coast, was once one of Sydney's most eligible bachelors having dated a string of models including Alexandra Spencer and Maddie Dixon.
Hemmes the hottest stallion at the track
Hotelier Justin Hemmes made quite the entrance when stepping out at Melbourne's Derby Day yesterday.
Emerald City spied the hospitality giant inside the GH Mumm Birdcage 'hotel' being bombarded by a bevy of young girls itching to get a selfie with the Merivale CEO.
Hemmes, 45, apparently arrived at the French champagne tent with Katherine Clark, an employee from his Establishment venue whom he has been linked to in the past.
"They looked like a couple, he was holding her close," one observer said.
When news of Hemmes and Clark's relationship broke in August the bar tsar all but denied the relationship, saying "Katherine is simply a great friend of mine" and insisting they are "certainly not dating nor in any form of relationship".
Lucy Manly is a reporter and gossip columnist for The Sydney Morning Herald and Sun-Herald.