Walvis the Whale 

The Bartz brothers newest (and largest they've ever done) is a whale snow sculpture that sits 22 feet tall and over 63 feet long and has become a celebrated attraction! 
In the summer months, the brothers have a landscaping company and in the winter, they are building MASSIVE snow sculptures. 
As you can imagine, they are scrounging for snow at the beginning of the year. Austin says church parking lots is a perfect place to go and load some up and, as he notes, the outside has to be pristine snow, which they usually pull from local ponds or the roof of the house! 

In this podcast: Austin explains how to idea came about, how they build the snow sculptures and the interesting tool they have built to help!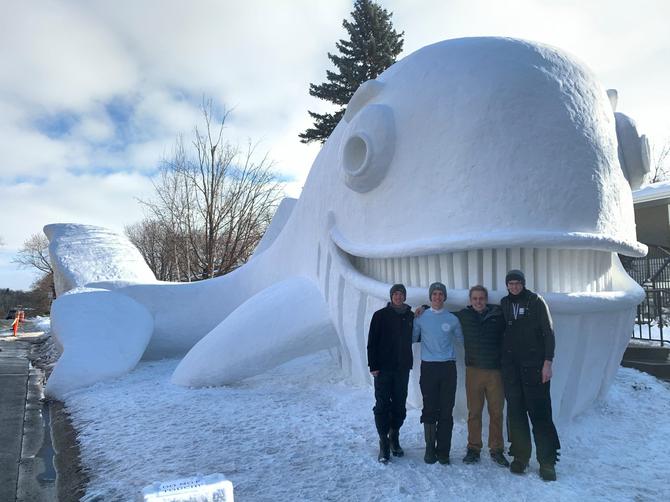 (Photo courtesy of 


Bartz Snow Sculptures


) 

For a Cause

All of the sculptures have been "sea life themed"… not only because it's ironic, but because they are raising money each year for clean water. 
We are excited to continue our partnership with One Day's Wages to raise money to provide access to clean water and sanitation to more communities around the world! Your generosity each year inspires us to keep building, and we couldn't have this impact without you! …

This year, our goal is raise $50,000 to empower communities through access to clean water. Donations made to our campaign will go towards clean water projects in Uganda and Niger.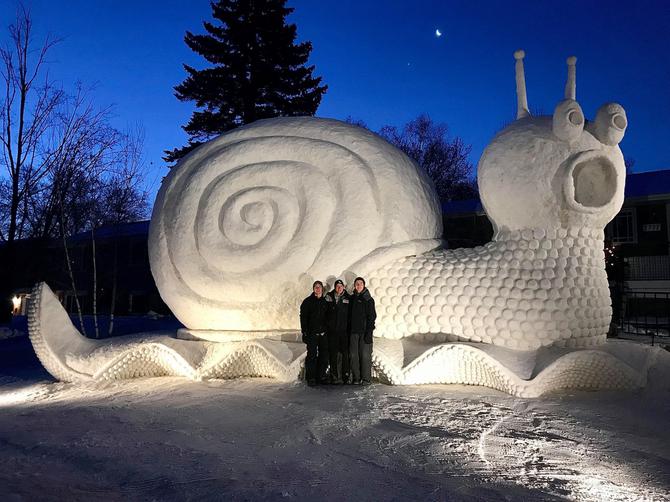 (Last years sculpture, courtesy of 


Bartz Snow Sculptures


)


CLICK HERE


 to see all their sculptures from previous years!

You can see their sculpture at: 2777 16th St NW
New Brighton, MN 55112

CLICK HERE


 to visit them on Facebook!


Additional content:


Winter Storms of the Last Decade


An aquatics center – for dogs! – is coming to Fargo!


From 2018: A London snow artist 'walked' designs into Target Field!


(Amy Iler & JJ Gordon are talk-show hosts at 790 AM KFGO in Fargo-Moorhead. "It Takes 2 with Amy & JJ" can be heard weekdays 11am-2pm. Check out the show page on


FACEBOOK.


Follow Amy on Twitter


@AmyKFGO


. Follow JJ on Twitter


@JJGodon701


.)