Legos aren't kid's stuff in the hands of someone like Sean Kenney, who uses the tiny building blocks and his artistic talents to fight for endangered animals.
Kenney 43, is a New York-based artist recognized by the Lego Group as a certified professional. His fourth indoor exhibit for Lauritzen Gardens runs through May 10. The traveling exhibit features some fantastic new pieces, including a coral reef, a snow leopard and a disappearing black rhino.
The rhino looks something akin to a radiator when viewed from the side. It presents the illusion of disappearing, and that's a point Kenney intended.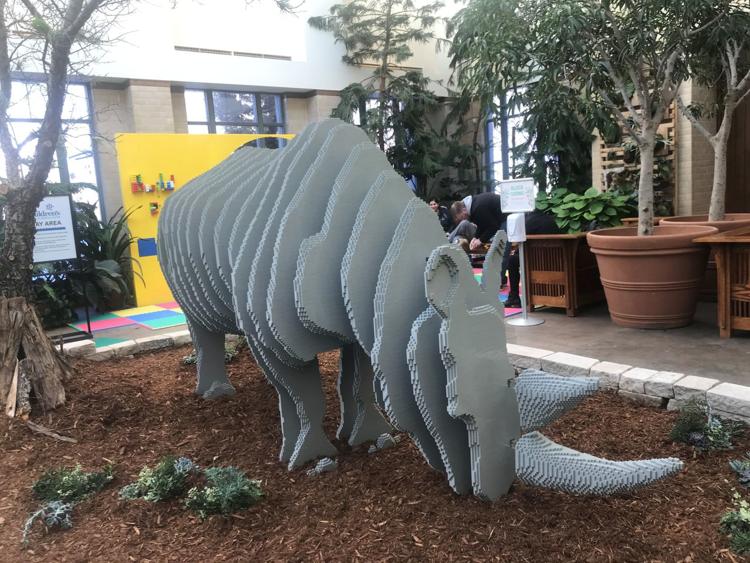 "Rhinos are disappearing in front of our faces, and this life-size sculpture does exactly that," he writes via Facebook. "I wanted to illustrate both the massive size and physical presence of the Black Rhino as well as the fact that they are quite literally disappearing off the face of the earth."
With outside temperatures hovering around 10 degrees Sunday, families flocked to Lauritzen Gardens, at 100 Bancroft St., to see the 13 displays built from nearly 800,000 Lego pieces. The sculptures are in the Marjorie K. Daugherty Conservatory and the floral display hall.
Andrea Walters of Omaha brought her sons, Noah, 12, and Owen, 2, to see the Nature Connects exhibit. Children were also able to build with Legos on a table and around a playhouse in the floral display hall.
"It's a great place to bring (the kids) where they can stay inside," said Andrea Walters of Omaha. "They can explore the Legos and be loud."
Tony and Monica Gehrts of Omaha brought three of their four children with them: Dylan, 12, Jack, 4, and Liza, 2. Jack said he was impressed by the details displayed next to each exhibit, giving the number of Lego pieces used, the length of time needed to build each animal and its place on the endangered species list.
"When it's super cold outside, we don't mind making the trek down here (from west Omaha) for the kids," Monica Gehrts said. "It gets them out of the house, and it's something fun."
You don't have to be a kid to get a kick out of the Lego exhibits, said grown-ups David and Dee Dee Morar. The Omaha couple strolled through the exhibit — David in a Green Bay Packers sweatshirt — a diversion ahead of the evening's NFC championship game between the Packers and the San Francisco 49ers.
David said the warmth of the conservatory was his favorite part of the tour. Dee Dee showed more of an appreciation for Kenney's artwork.
"We're members here and they always put on great exhibits," Dee Dee said. "I really liked the chameleon (in the conservatory) because of all the colors."
The chameleon measures 48-by-30-by-66 inches and incorporates 49,034 Lego pieces. Recent research, the display said, estimates that nearly 35% of all chameleon species are at risk of extinction due to loss of habitat.
Other sculpture highlights mentioned by visitors Sunday included the snow leopard, the coral reef, the rhino and a mother polar bear with three cubs. All are at risk of disappearing.
The polar bear and cubs are made of 133,263 Lego pieces, easily the most in the exhibit. Jean Armstrong of Chicago was visiting Omaha friends and marveled at the intricacy of the exhibit.
"I don't know how they are able to make the curves on these animals, but they do and they're beautiful," she said. "Every time I come to town, I see something wonderful here."
Photos: The Omaha World-Herald's best images of 2019
Canada geese fly over Flanagan Lake at sunset in Omaha, Nebraska.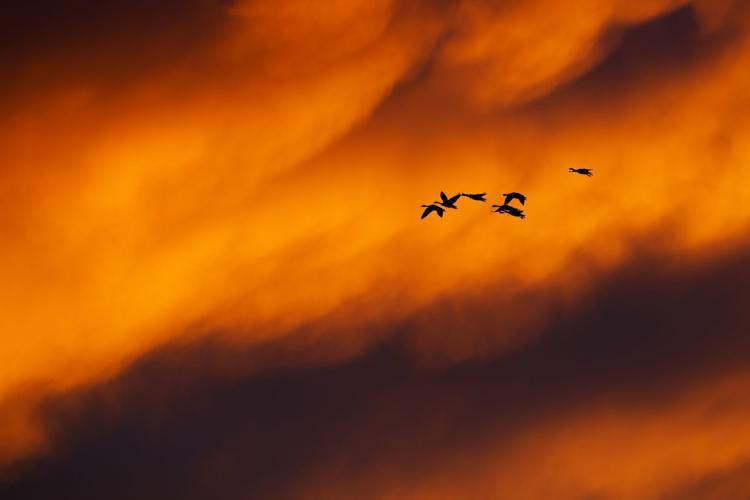 Director and CEO of Omaha's Henry Doorly Zoo and Aquarium Dennis Pate, speaks to the media about newly hatched gentoo penguin chicks before they enter their habitat in the Suzanne and Walter Scott Aquarium at the Henry Doorly Zoo.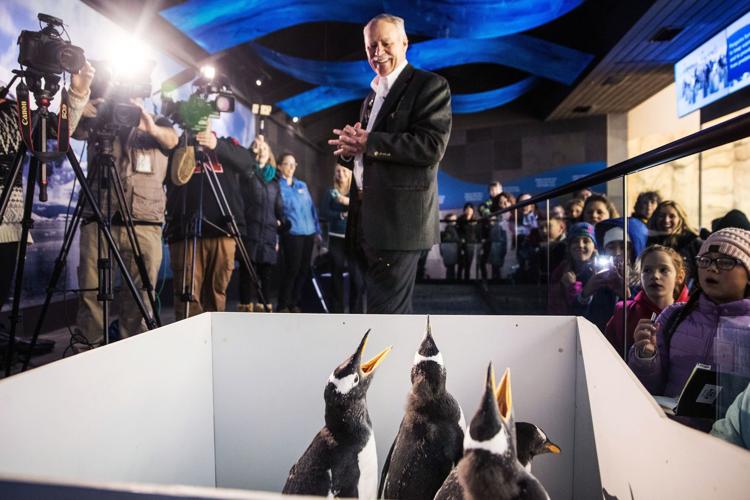 Creighton players huddle up prior to a college basketball game against Georgetown at the CHI Health Center.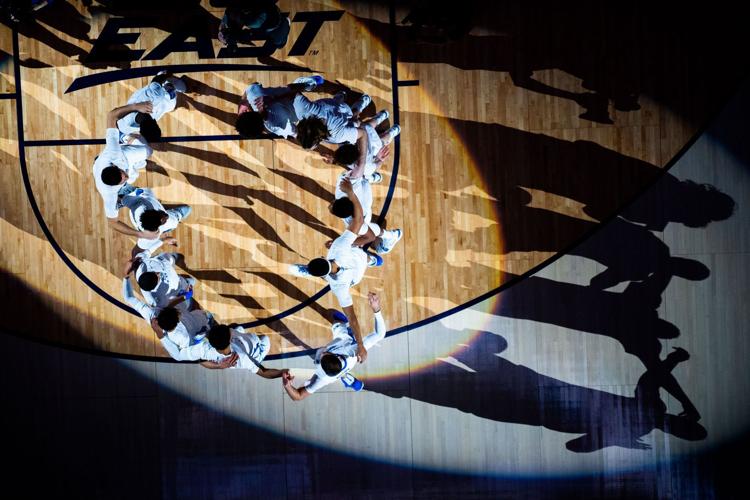 Charles Relford waits to pick up his brother at 24th and Pratt Streets with his three dogs.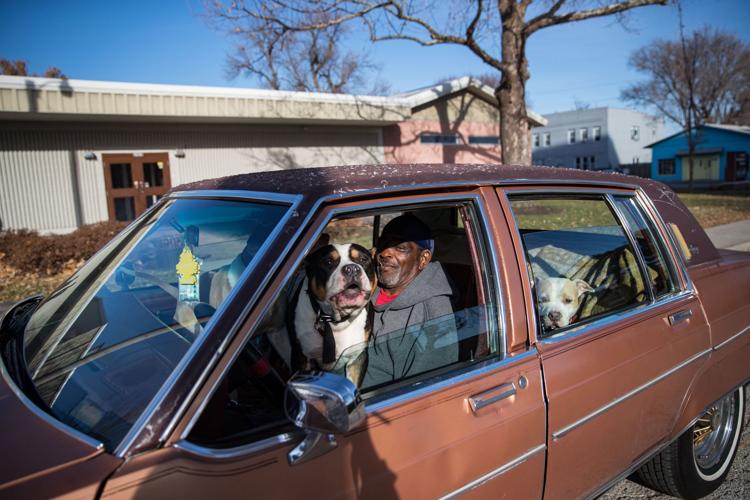 Two-year-old Hannah Bonnot of Denver, Colorado, stands in awe before "Mountain Outlaw" taken at Grand Teton National Park, Wyoming, on display at Tom Mangelsen's "Life in the Wild" exhibition at the Durham Museum in Omaha, Nebraska.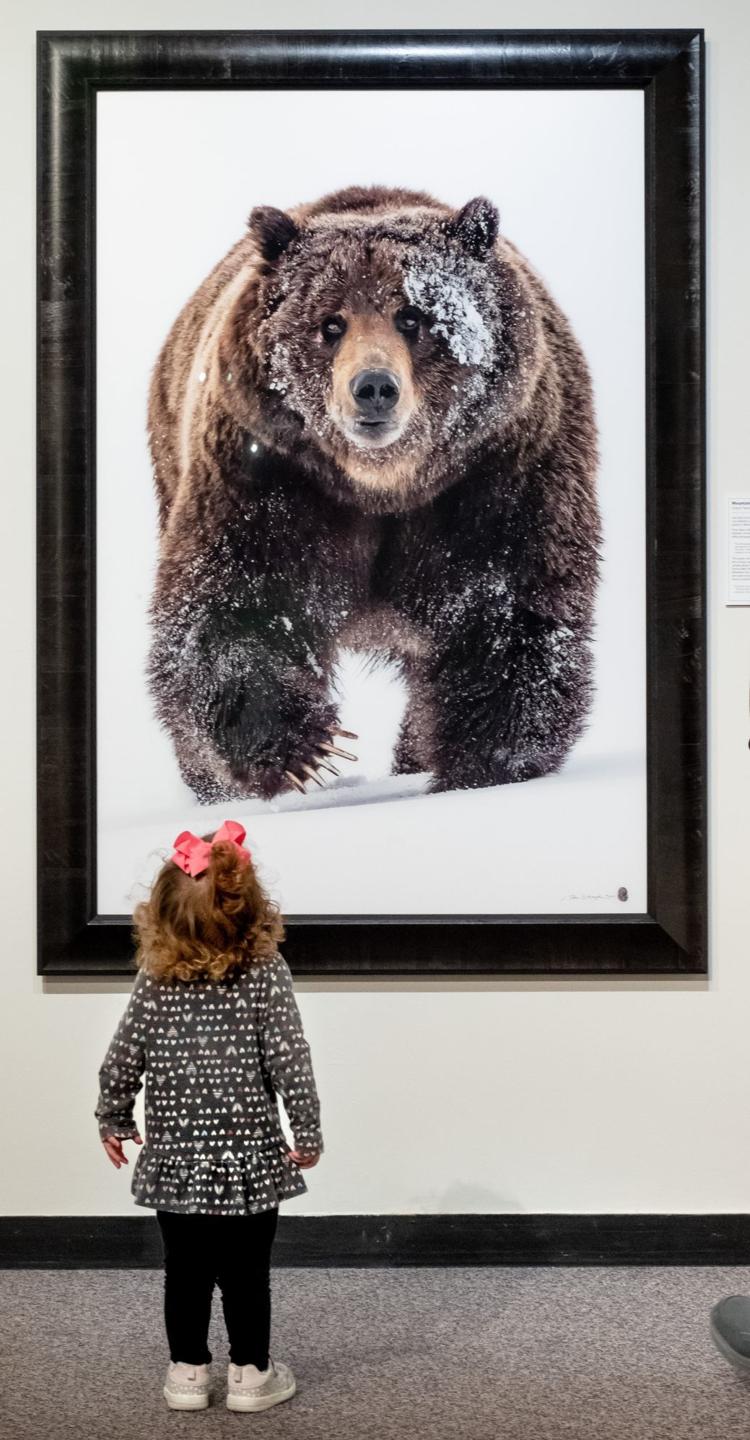 High School football players from Nebraska and Iowa who have been selected as the Omaha World-Herald's Super Six pose for a portrait at the boxing arena located at Camp Ashland in Ashland, Nebraska.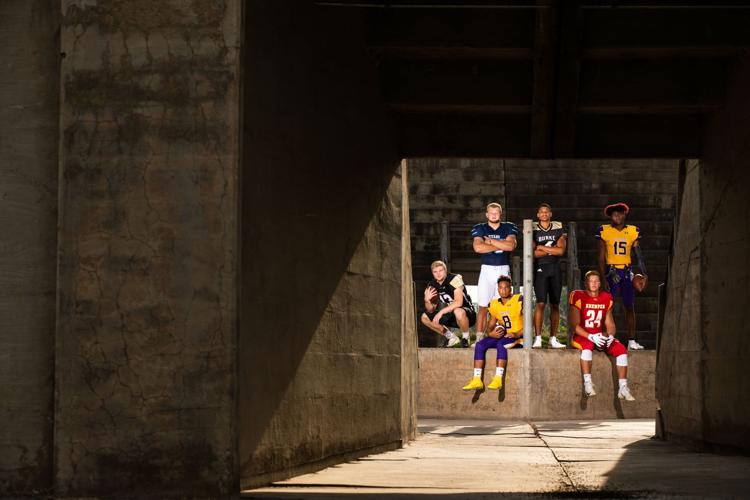 Bellevue West teammates, from left, CJ Lilienkamp and Devin Mills make snow angels as they celebrate their Class A state title win over Westside.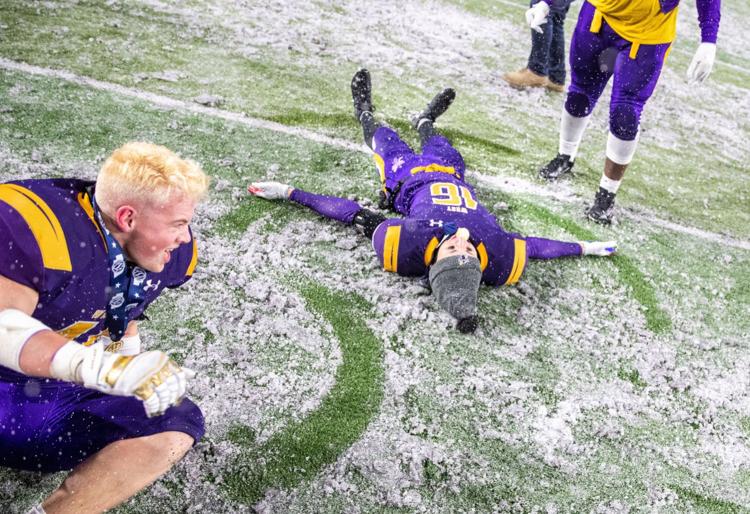 Craig Bachmann throws a training dummy for his dog, Bedlam, a Chesapeake Bay retriever, to retrieve at Standing Bear Lake in Omaha, Nebraska. Bachmann said he was doing some obedience work with Bedlam as well as some lining drills.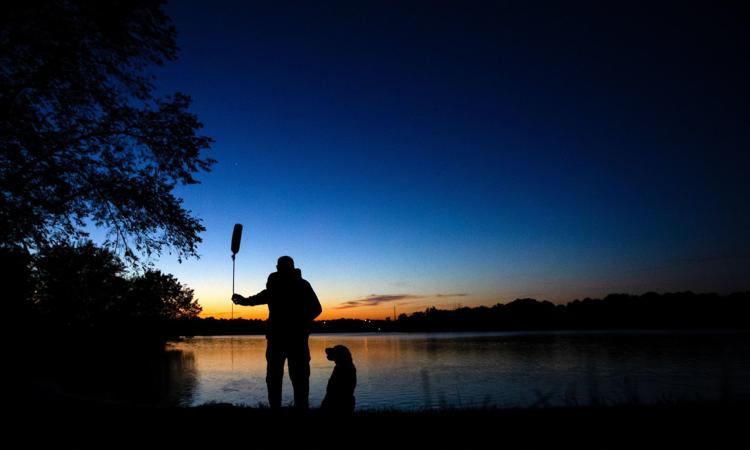 Seventh-grade students from Nathan Hale Middle School are reflected in a The New Negro Escapist Social and Athletic Club a portrait by Rashid Johnson while touring 30 Americans, an exhibition from the Rubell Family Collection at the Joslyn Art Museum.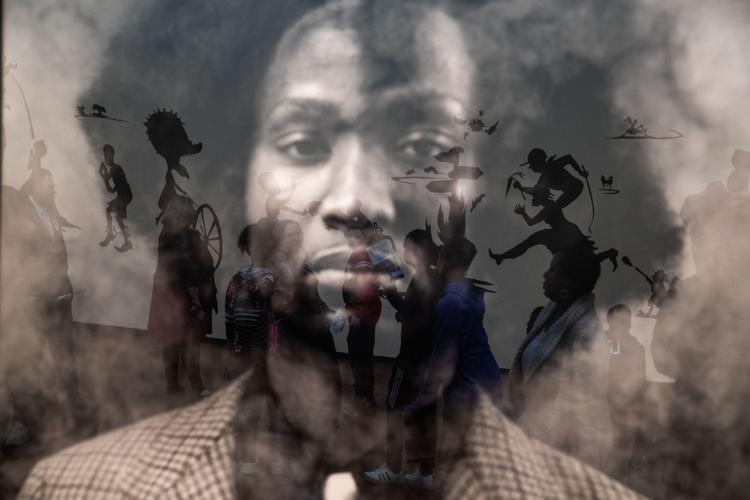 Water covers a road near Valley, Nebraska, on Friday, March 15.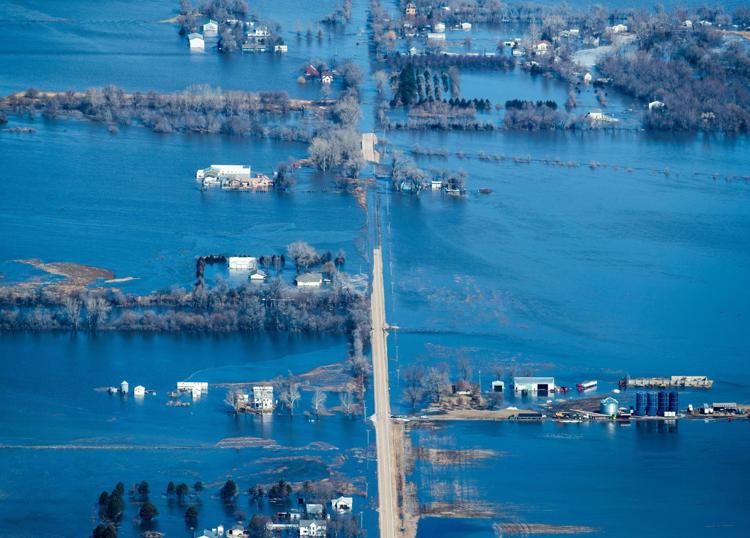 Joe Zavadil, 14, of Omaha, leaps to a lower level of berm seating during the Class B girls state soccer championship game.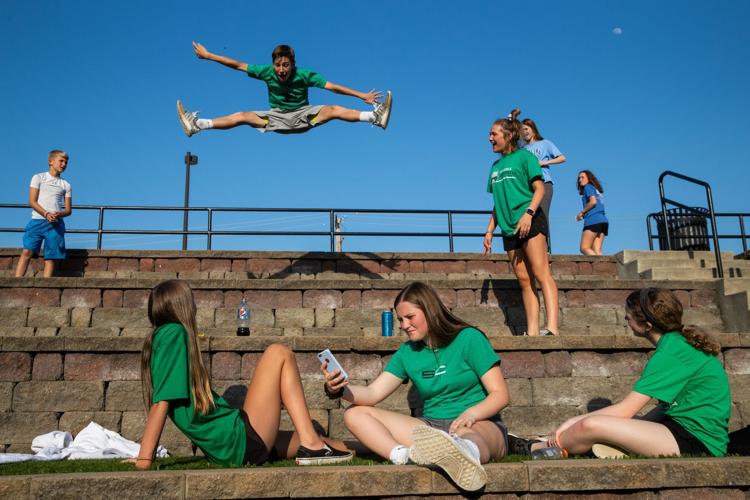 Detroit Tigers' Miguel Cabrera signed autographs for fans prior to a Major League Baseball game against the Kansas City Royals at TD Ameritrade Park.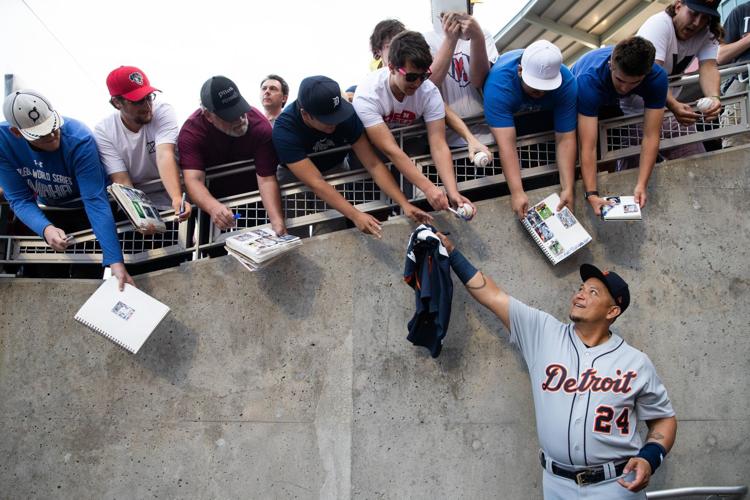 Jim Linafelter of Sergeant Bluff, Iowa, and other Husker fans celebrate a third-down stop for Nebraska's defense against Northern Illinois.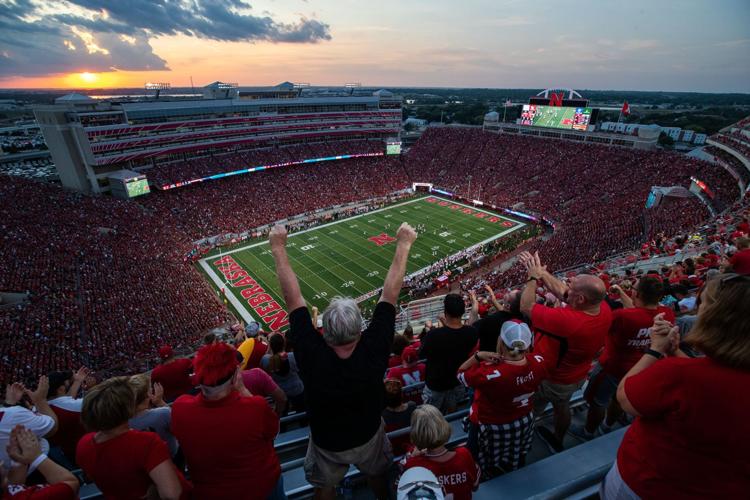 The Westside Warriors take the field through fog and a banner before a high school football game against Creighton Prep.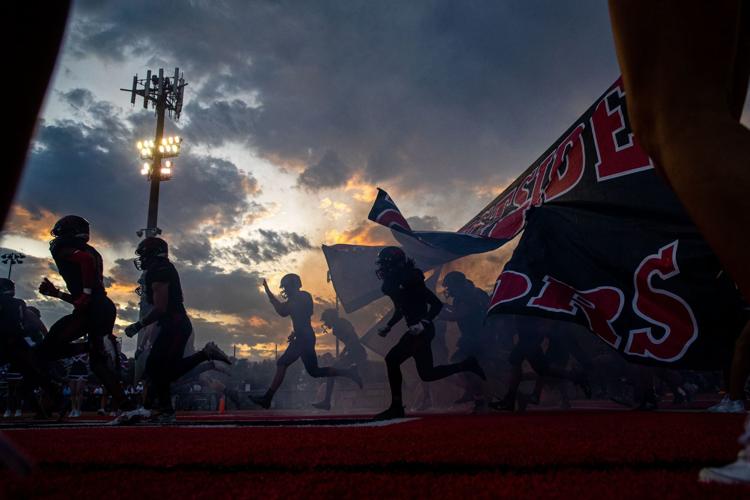 Tow truck drivers work on trying to get a semi truck out of a ditch after it turned over on Highway 20 in north central Nebraska during a blizzard.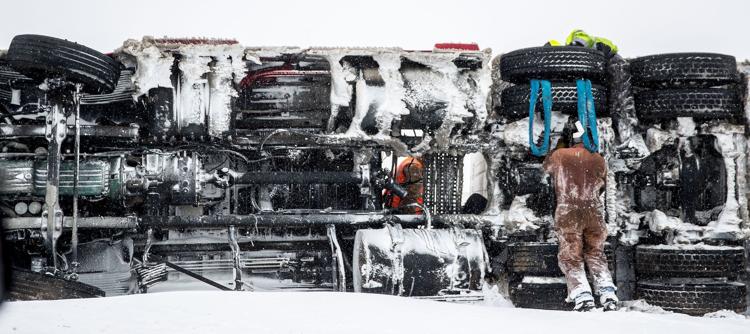 Arizona State's Jack Judson checks University of Nebraska at Omaha's Chayse Primeau into the boards at Baxter Arena.
A bike is revealed in the mud below the 13th Street bridge in the Gene Leahy Mall after the water was pumped out of it during renovation work.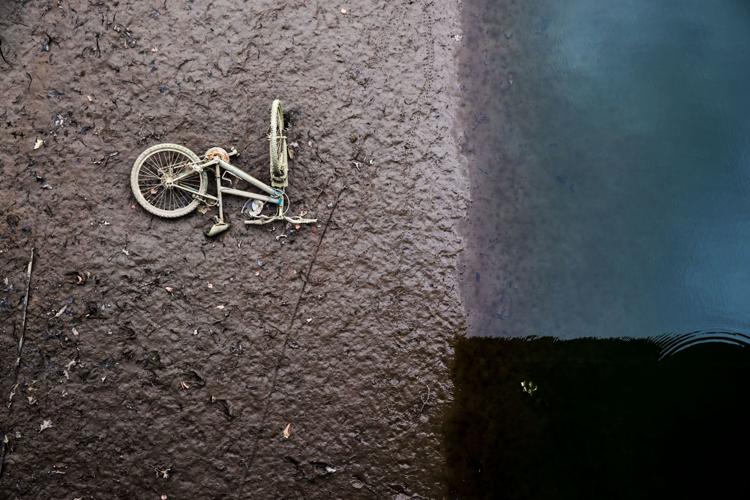 Omaha South's Ukash Weliyo, right, gets a hug from his mother Halima Mohamed after the Packers defeated Omaha Creighton Prep during the Class A boys state soccer final game at Morrison Stadium.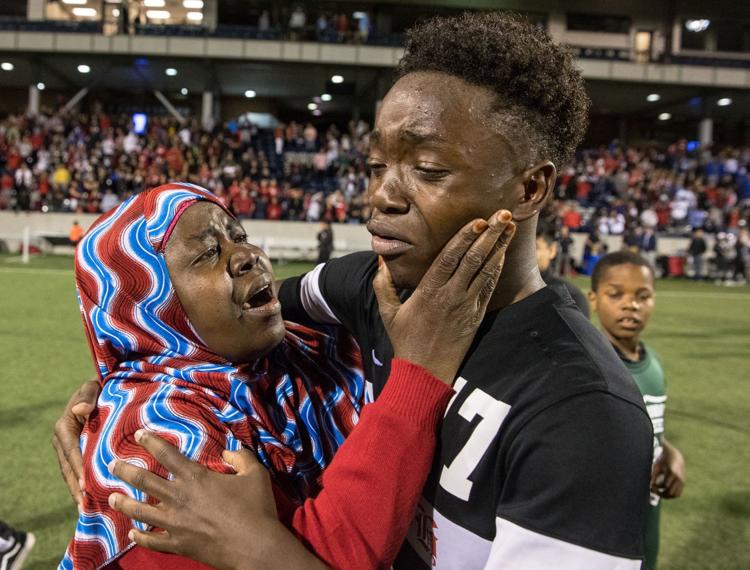 Louisville's Nick Bennett writes in the dirt before a game against Mississippi State in the College World Series.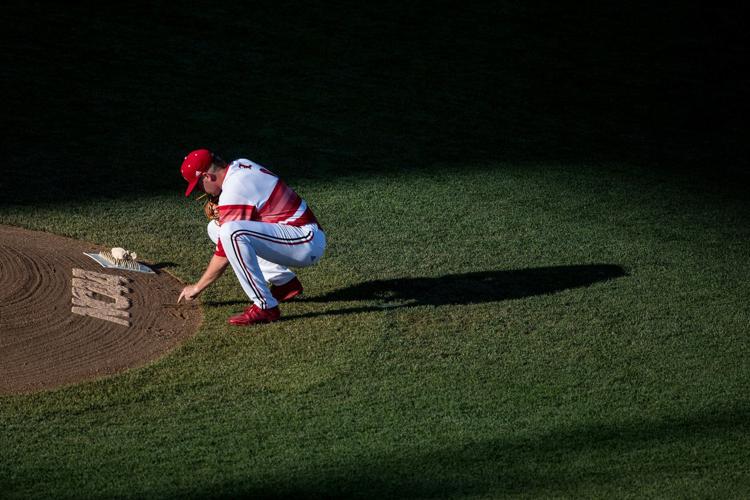 Mississippi State's Jake Mangum reacts after losing to Louisville in a walk-off during game 10 of the College World Series.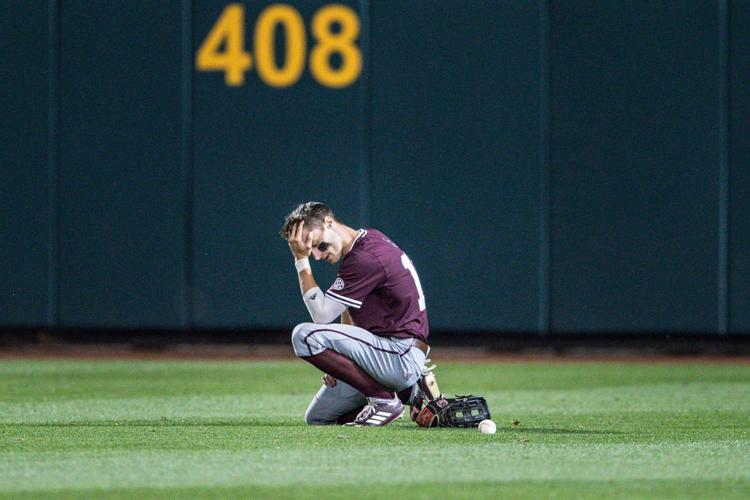 Juno, a dog belonging to professional dog trainer and hunting guide Aleah German, has a collar adorned with shotgun shell caps.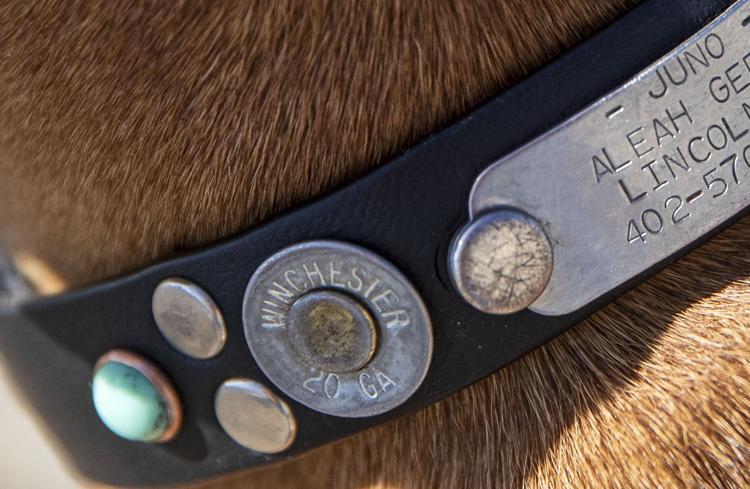 The moon rises over the Bob Kerrey Pedestrian Bridge in the early morning hours.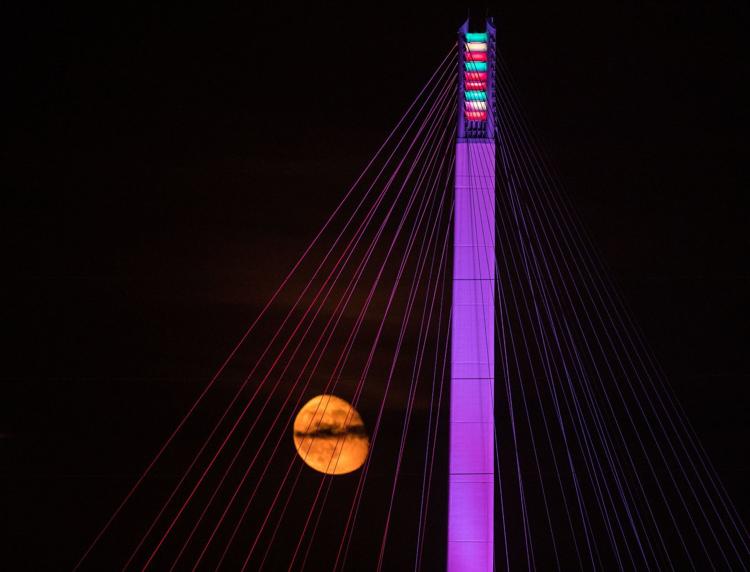 A cat looks up at Jill Tafoya after she revived it in the back of an ambulance after the cat was rescued from a fire.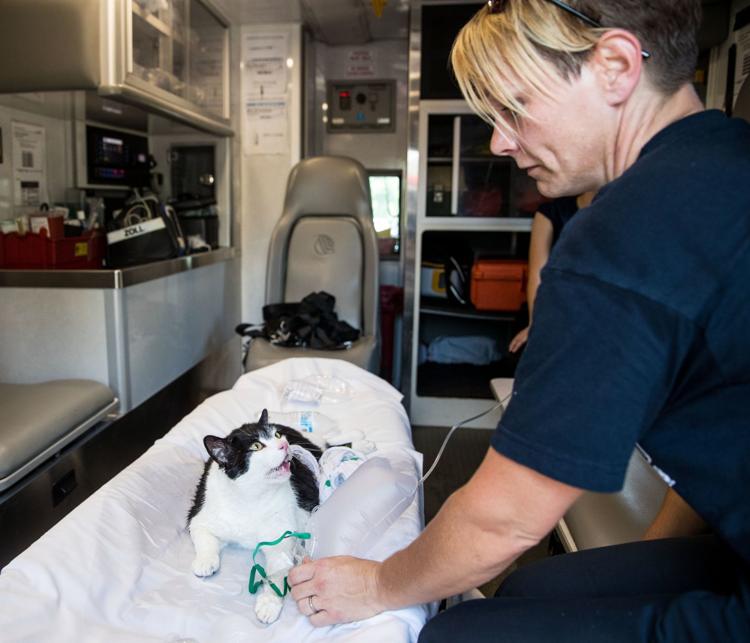 An allosaurus appears to be eyeing a tasty, 19-month-old morsel named Austin Haseltine as he is lifted from the shoulders of his grandpa, Greg Fasano, by his mother, Amy Haseltine, with his father, Jim Haseltine looking on.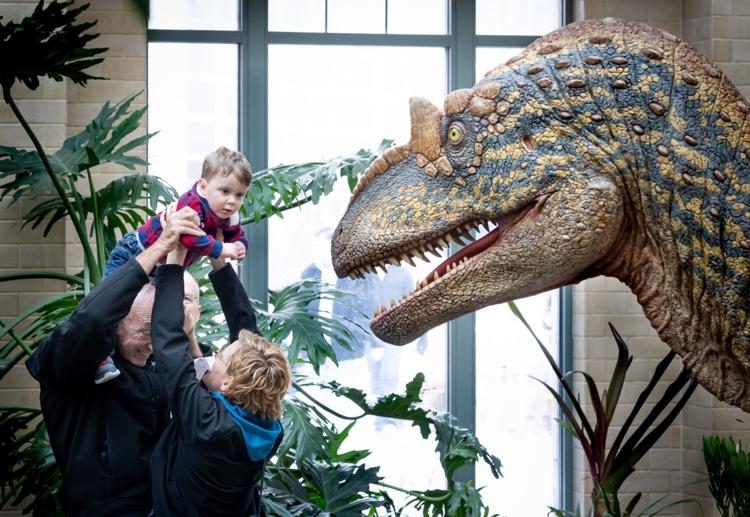 Horses belonging to Faye Etherington of Fremont that were being boarded in Inglewood, Nebraska, are brought into Fremont through floodwater on Highway 77.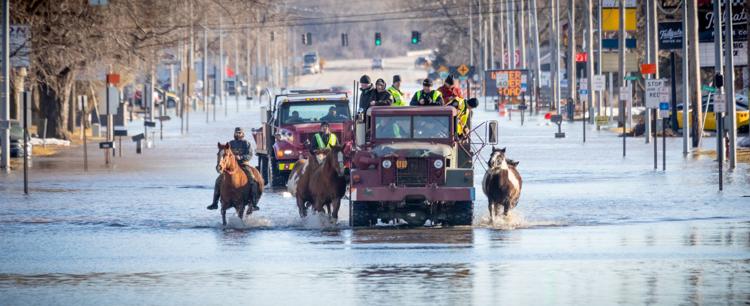 Millard West's Corbin Hawkins waits out a rain delay in the dugout.
Looking back at the floodwater below the Broad Street viaduct are from left, Calvin Schmidt, 6, Paul Schmidt, their dad and Avery Schmidt, 7, in Fremont, Nebraska.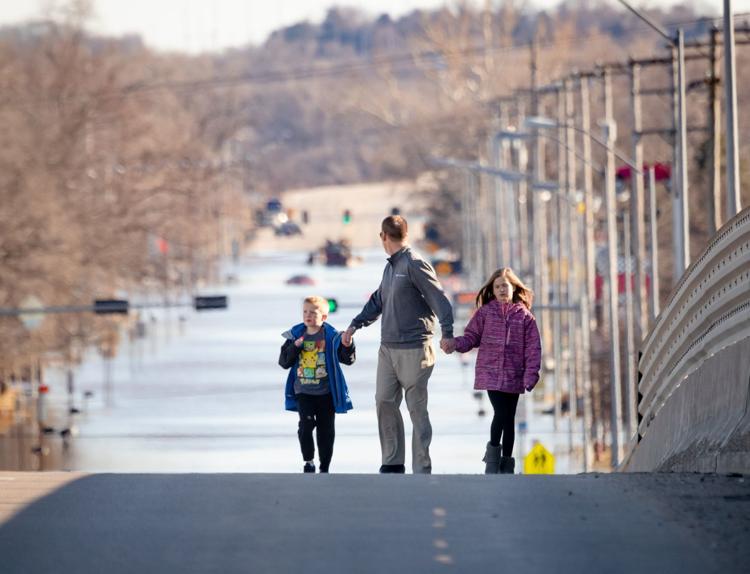 Auburn's Rankin Woley slid into the fence while catching a foul ball for an out during a College World Series game.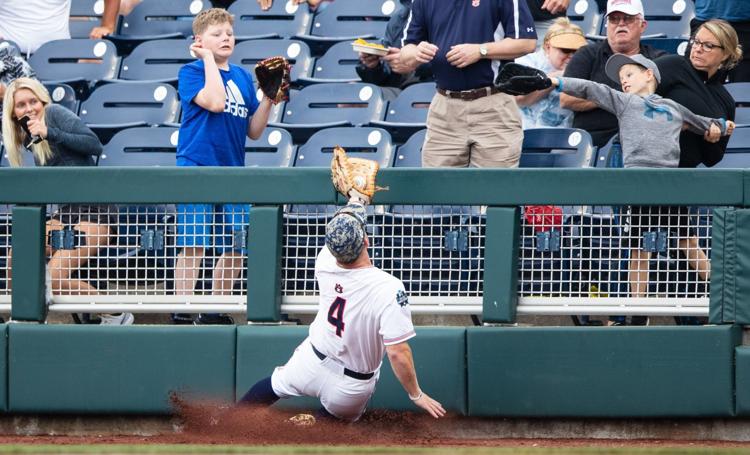 An angel statuary sits in a flooded yard in the Hanson Lakes area in Bellevue.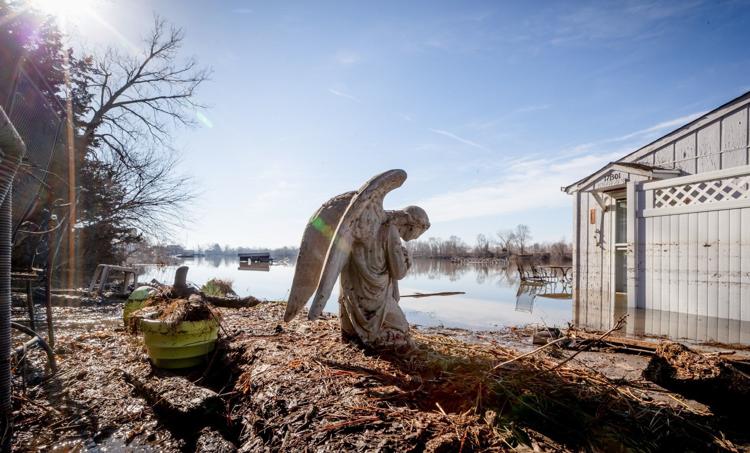 A farmer drives his combine to unload soybeans for transport near Ceresco, Nebraska.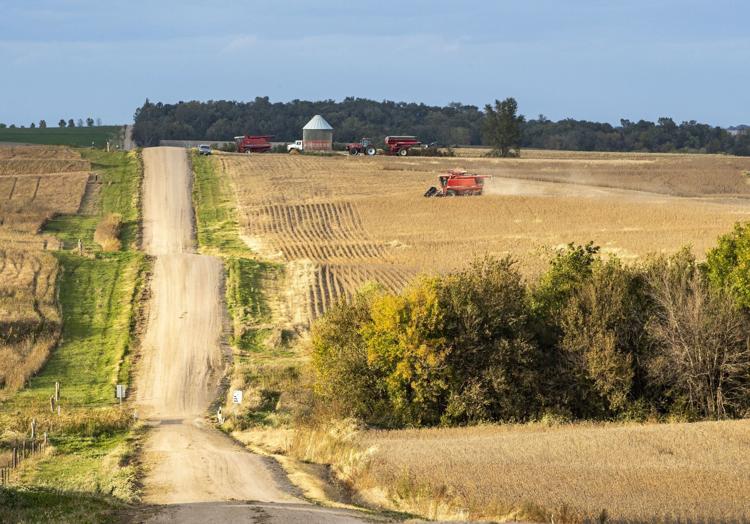 The Millard South Majorettes practice their halftime routine.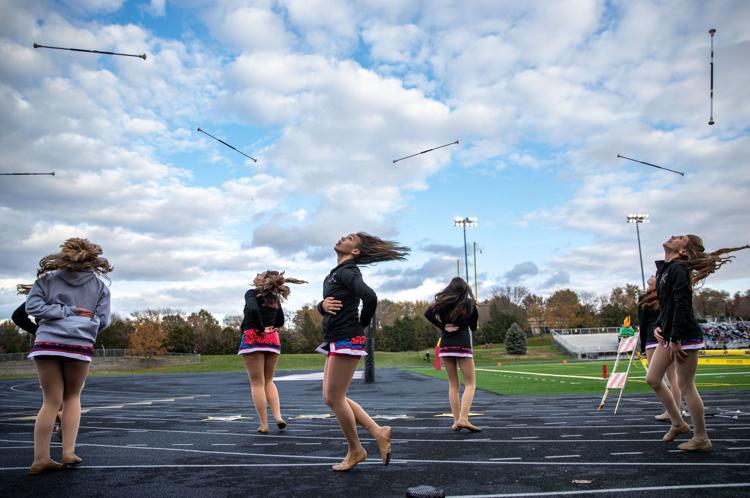 Xiang Fang, right, and his son Ethan, 10, walk along the shoreline at Chalco Hills Recreation Area in Omaha, Nebraska.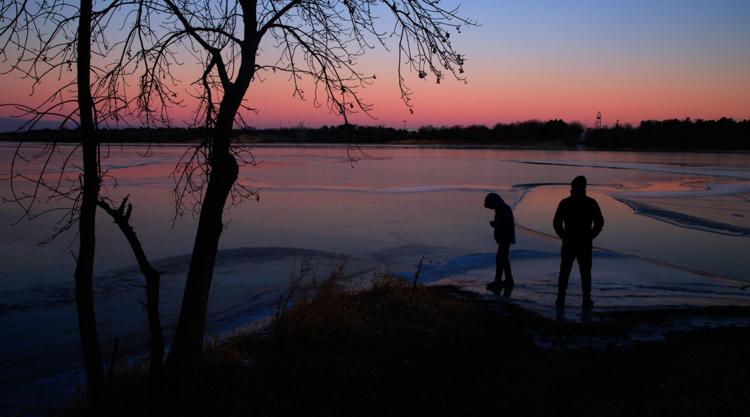 Businesses on the southwest side of Hamburg, Iowa, were flooded from the waters of the Missouri River.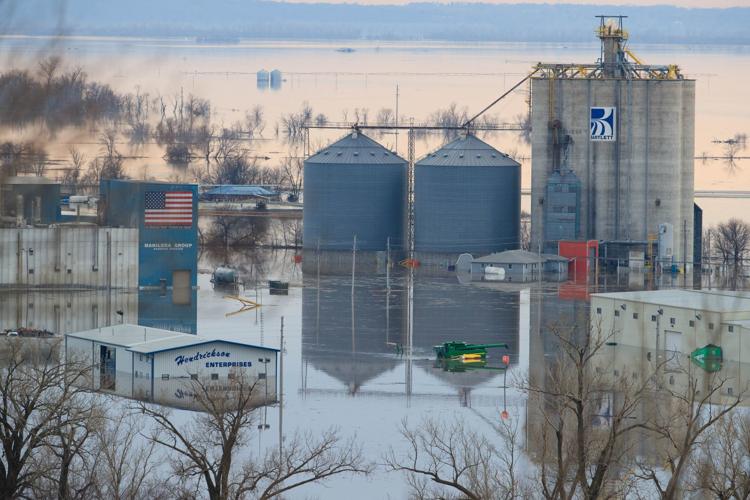 Kayla Thege, left, and Mark Batt hang out with their dog, Maia, during a Storm Chasers baseball game.