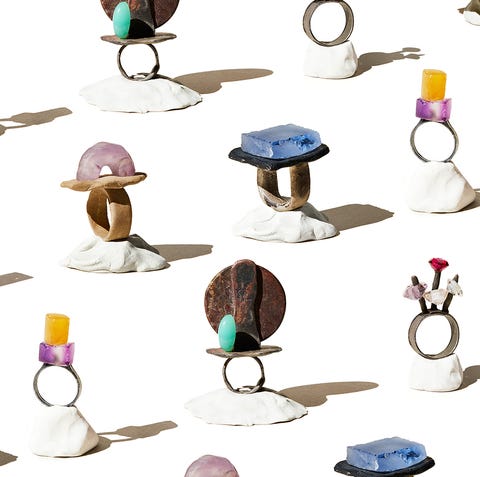 Designed by Mike Stillwell
"I speak through rings," Karl Fritsch tells me as we stand over a long narrow table in the middle of Salon 94. I think I hear them asking me: "Am I a sculpture or am I a ring?" One, a metal plate that holds about seven other rings stacked on top of each other and seems to declare itself as an art piece, Another, a hand-brushed gold band that almost begs to be worn. The truth is, Fritsch's work won't supply an easy answer—it wants you to consider that it can be both.
Fritsch, who is German-born but lives and works in New Zealand, is trained as a goldsmith, and he is masterful at his craft—a large gold square with a perfect patina, that he says will only improve with wear, is hand-carved with the words I LOVE YOU. I try it on, it covers almost three of my fingers, and yet I can easily continue to move through the gallery pointing and gesturing with the same hand.
I was introduced to Fritsch's work through Salon 94 owner and founder Jeanne Greenberg Rohatyn, who wears his rings often and has been a longstanding supporter. I have always admired how his pieces work with Greenberg's impressive collection of modernist jewels, including some by Alexander Calder. The rings are wildly imaginative, in shapes that jut out in all directions and uncut stones that defy standard proportions, and yet they are efficiently and beautifully constructed. Fritsch's work has been described as "subverting the notion that jewelry is mere décor and that sculpture must be admired at a distance."
The exhibit at Salon 94's Upper East Side location reflects this. Each ring is presented upright as sculpture, but can easily be taken out of its holder and placed on a hand. Fritsch remarks that I might have found my match in one. Or is it the other way around? "Each rings finds its wearer. Each says something different. It's a language."
Karl Fritsch's exhibit at Salon 94, 12 East 94th St in New York, is open until December 6. Learn More