Albiston's first collection, Nervous Arcs, was published in 1995. Her interest in mathematics has been a consistent characteristic of her work and its structure. Over the years, her poetry has become leaner and more truthful thanks to that interest: "I've followed more honestly the truth of mathematics against the zeitgeist in Australia, which is not about maths and not about truth."
The return of Zadie Smith
It was a very different Zadie Smith who popped up at the Sydney Opera House and Melbourne's Broadside Festival of Feminist Ideas this month from the one who appeared at the Melbourne Writers Festival in August 2000. Smith was then in her early 20s and her first novel, the brilliant White Teeth, had been published only a few months earlier. Her travelling companion was her mum, Yvonne Bailey-Smith.
In those days, Smith was a much less experienced talker in public. There was masses of interest in her appearance at the Malthouse Theatre, which was then the festival's home, and before her in-conversation (disclosure: I was her interlocutor) we peeked through the curtains to see the size of the audience. Smith's reaction was classic. ''F—,'' she said when she saw the auditorium was packed and rushed outside the building to have a calming cigarette. She was clearly nervous and when our chat started it was about 15 minutes before she lifted her eyes off the floor and actually looked at the audience.
Her mother was a calming presence in one of the rows of seats close to the stage, and the star of the day eventually relaxed. The audience loved her and now, of course, she wouldn't bat an eyelid at a crowd of about 500. In fact, she'd probably be disappointed.
Just a song at twilight
Penguin Random House is putting on a "literary salon" in Melbourne and Sydney to spruik to booksellers some of its authors' books being released in the first few months of next year.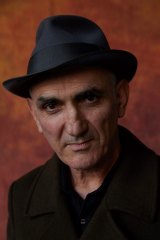 Among them is teenage-writer Vivian Pham, whose first novel, The Coconut Children, emerged from the Sydney Story Factory's novella program in 2017. It's about children of the Vietnamese disapora, which is something Pham knows a bit about given her father escaped from Vietnam when he was 17 and ended up in the US before bringing his family to Sydney many years later. Her father watched her read from the book and admitted he was "very proud".
The other writers who read from their work in Melbourne were Stephanie Convery (After the Count), Bernard Gallate (The Origin of Me), Liam Pieper (Sweetness and Light), and Ronnie Scott (The Adversary). One writer read only briefly (Funeral Blues, by W.H. Auden.). That was Paul Kelly, whose book, Love is Strong as Death, an anthology of his favourite poems and ones he discovered while compiling it, was published this week, a few days after the release of his Greatest Hits double album. But he did sing a couple of the 40-odd poems he has put to music. He began with Gwen Harwood's Barn Owl, which features on his album Thirteen Ways to Look at Birds, and then finished with W.B. Yeats' Sailing to Byzantium. However, as his book is already out, he won't be part of the Sydney presentation.
Prizes galore
Melissa Lucashenko has followed her Miles Franklin for Too Much Lip with the $25,000 Queensland Premier's award for a work of state significance in the Queensland Literary awards. Carrie Tiffany won the fiction prize worth $15,000 for Exploded View, Alison Whittaker won the $10,000 poetry award for Blakwork, and Mary Hoban grabbed both the $10,000 history and the $15,000 non-fiction prizes for An Unconventional Wife: The Life of Julia Sorrell Arnold.
Eliot's 200th
If you love George Eliot's work, you should know that yesterday marked the 200th anniversary of her birth. Other than reading her greatest work, Middlemarch, to mark the occasion – or any of her books – you might like to try Kathy O'Shaugnessy's new novel, In Love with George Eliot, which is a brilliant recreation of her life.
Naked Noah and the Vikings
You've missed out. Voting has just closed in The Bookseller's annual Diagram Prize for the oddest book title published in the past year. The six-title shortlist for the 41st prize includes The Dirt Hole and Its Variations, Ending the War on Artisan Cheese, Hitler's Monsters: A Supernatural History of the Third Reich, How to Drink Without Drinking, Noah Gets Naked: Bible Stories They Didn't Teach You at Sunday School, and Viking Encounters: Proceedings from the 18th Congress. The shortlist seems slightly underwhelming this year compared with previous winners such as People Who Don't Know They're Dead, Managing a Dental Practice: The Genghis Khan Way, Oral Sadism and the Vegetarian Personality, and Australian writer Kaz Cooke's classic, Living with Crazy Buttocks.
Jason Steger is Books Editor at The Age and The Sydney Morning Herald