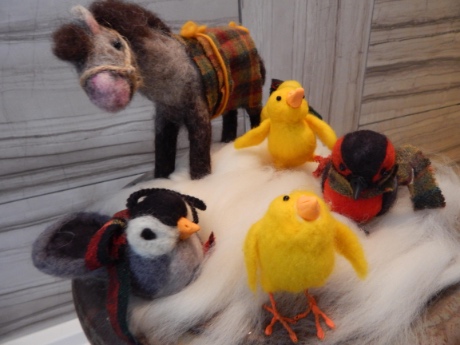 Submitted photo and press release:
The Batavia Society of Artist is hosting Artist Terry Weber from 7 to 9 p.m. on Feb. 11th at GO ART! in Seymour Place, 201 E. Main St., Batavia.
She will be having a hands-on felting demonstration of a resting rabbit. Non-members welcome for a $5 fee.
The demo, will actually be a hands on class, where you'll make your own soft sculpture that you get to take home with you.
About Terry Weber
I studied Art at Saint Mary University in Leavenworth, Kan. My concentration was in Pottery, with a Secondary Education minor. I taught in Denver for three years, grades three though eight before moving back to New York in 1982.
After eight years in the hotel business, I opened up my own shop where I did a bit of everything, selling beer and lottery tickets, ice cream and tacos, gifts and antiques. I closed it in 2005 and started a revival of my life as an artist.
I've dabbled in many mediums and textiles, from watercolor to silk painting. I started needle felting eight years ago. There are many artists working worldwide in this relatively new medium. Some use it to embellish clothing, others make works of art fit for any museum.
The process relies on the nature of wool, which has many scales on each strand. When pushed together, either through heat and agitation, such as in wet felting, or the action of barbed needles in needle felting, the strands bind to one another quite strongly to make felt.
The soft sculptures that can be created have a warmth that you don't get through other mediums like stone or clay. A cuddly sculpture, that's very attractive and hands on.
Wool naturally repels dirt and water, a bit of vacuuming once in a while is the only care required.