Saturday morning before dawn, I went for a run on the Monon Trail north of 126th street in Carmel where construction is continuing unabated in Mayor Jim Brainard's decades-long mission to turn the city of Carmel into Paris. The danger in such an approach is that, instead of Paris, you might wind up with a Disneyland or Dubai. In some respects Carmel comes close, with the Palladium evoking The Cheesecake Factory as much as it does 17th century Italian architect Andrea Palladio.
Forgive me if I sound like a snob for saying so. But I should also say that there are things about living in Carmel that I like very much. Take the newly created public parks like Midtown Plaza, for example, where you can play ping pong or pool for free in the shadow of Sun King Spirits.
I also like much of the new public sculpture, much of which is being built on (where else?) Carmel's roundaouts.
My morning run took me past Midtown Plaza. When I turned north onto the Monon Trail, the 29-ft.-high sculpture "Sail", by the design team Owens + Crawley, stood in my path approximately 200 meters south of Main Street, at 2nd St. and Monon Boulevard.
It was dark so the aluminum-framed sculpture was set aglow: its stripes of differently colored acrylic pane, lit by LEDs, glowed in the pre-dawn dark. Periodically the sculptures panels faded and brightened again, having shed one color for another.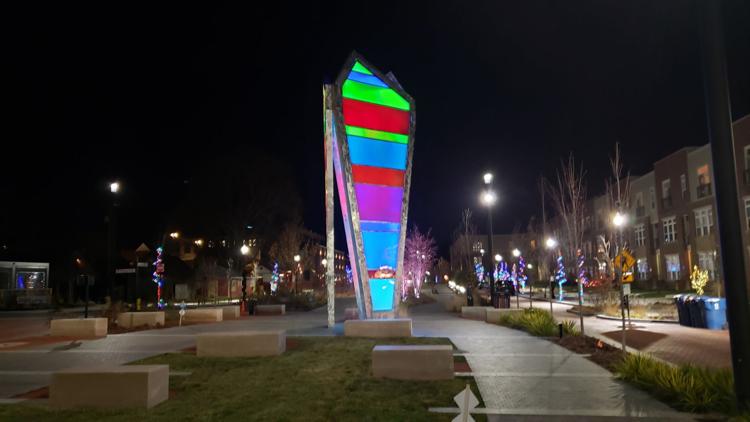 From the outside the three-pronged sculpture indeed seems sail-like, with its bright colors that evoke water sports and year-round shirtsleeve weather. But when I stepped under the three sculptural elements and looked up, I felt like I was in a miniature cathedral with its acrylic panels, periodically shifting in color, resembling stained glass. 
I've seen have seen other examples of the sculptural work of Owens + Crawley (Quincy Owens and Luke Crawley) around Indianapolis, where the design team is based.
Partly because of its heft and its large scale, this is my favorite of what I've seen so far of their work. On their website, they write of the significance of the sculpture's trinity of parts and its monumentality. Standing under it, I stepped out of myself for a moment, as good art is wont to make me do, and contemplated the world around me.
As I started back on my run — not wanting to stand in place too long because the temperature was hovering at around 10 Fahrenheit — I recalled a the conversation I had with Luke Crawley in November at the Harrison Center. He was there for an opening of his untitled exhibition of abstract paintings, which took some inspiration from the sculpture he helped create with Quincy Owens. 
I asked him about the sculpture, which had been installed in September.
"It's the largest project that we've done to date in terms of scale for sure," said Crawley about "Sail." And so anytime you kind of step outside your comfort zone there's going to be challenges and obstacles that you've never faced before." 
The inspiration and the design for the sculpture mostly came from Owens, he said. With "Sail", Owens was more focused on the design of the sculpture while Crawley was more focused on the installation of the piece and making sure the electric worked. 
"I think the basic idea mostly came from him," said Crawley. "We came together in terms of like, logistically how to realize it and make it actually happen. There's a big jump from sketching something on paper to 'Can we actually build this?'"
But there are other sculptures in their catalog where Crawley has more of a conceptual role.    
Crawley, when not involved in public art projects, works as a math and physics teacher at University High School in Carmel. He has no qualms about making art for the city of Carmel, which has a more top-down approach to commissioning public art than Indianapolis.
This, I think, has a lot to do with Mayor Brainard's hands-on approach.  
Not every artist or arts aficionado in Marion County is willing to cross 96th street —  which Actors Theatre of Indiana (ATI) Executive Director James Reilly likens to "a wall of Plexiglas"— to take in an art opening or a performance in Carmel. (ATI is a resident professional theatre based at the Studio Theatre in Carmel, caddy corner to the Palladium, in The Center for the Performing Arts.)
I've been witness to some discussions about the Center for the Performing Arts competing with Indy for a limited pool of dollars and the like. I've also been a beneficiary of Carmel becoming a much more engaging, exciting, and jogger-friendly place over the past decade.
But do detractors have a point? And, perhaps more to the point, is there any intellectual and artistic snobbery (or a lack of knowledge) at play in the thinking of those who hold such opinions?
While my feelings towards Carmel might be a little complicated, Crawley's are not.
"We're not going to discriminate against something just based on perception," he told me. "If Carmel has a spot and wants to have us make a sculpture for them, who are we to say no? We have sculptures in downtown Indy we have sculptures in Carmel, we have sculptures in Iowa and Philadelphia …. Public art is going to benefit any community, so we are non-discriminating in terms of who wants to pay us to make something."