More than a dozen community members from across Thurston County came out to celebrate an art sculpture dedication hosted by the City of Rainier for a piece of art that was donated and placed along the Chehalis Western Trail Thursday afternoon in Rainier.
The sculpture titled "The Portal" was donated by Myrna Orsini, owner of the Monarch Sculpture Garden in south Thurston County, and her husband Patrick Cavendish after they felt the trail needed some color.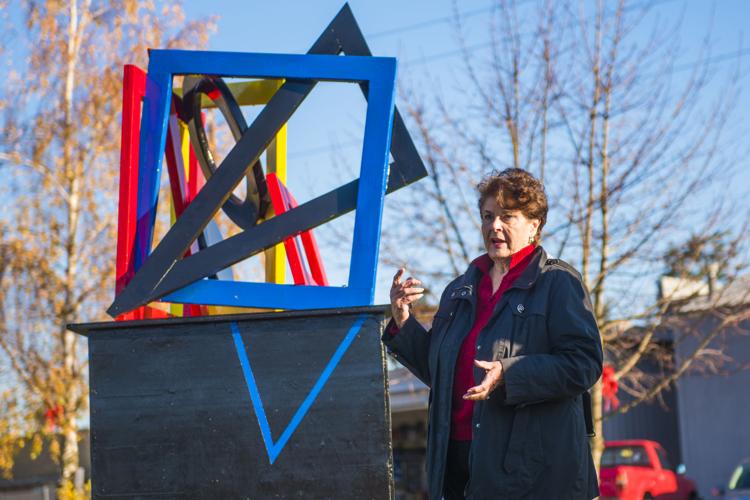 "The design shifted several times in the process, trying to come up with a piece that would weather here somewhat well, but also not costing a small fortune to create, and we just felt it needed color and visual pop," said Orsini. "I came up with the idea of 'The Portal.' We know about the blackhole leading to a new dimension, and that's what art work does. When you come and approach it and visualize it, you enter into another realm of thinking and feeling."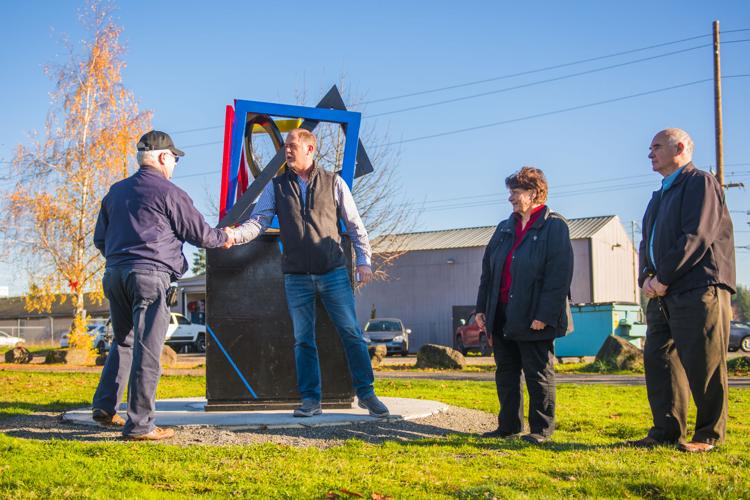 Orsini lives with her husband in the outskirts of Rainier but says she stays very involved in the community. 
She is a member of multiple groups in the city, including the Rainier Arts Commision, which in February 2020 will be having a grand opening ceremony for an art showcase in the basement of the school district headquarters.
"It's exciting to work in a small community and to bring more opportunities in life to the community and I love doing that through art," Orsini said. "I've become a member of the We Love Rainer committee which then took me into helping develop the Rainier Arts Commission and that's the gallery and classroom space that we will be opening Feb. 8."
An art gallery might not be the only new thing coming to Rainier in 2020. The sculpture donated on Thursday is the first to be donated in what the city hopes is the future path of a new and unique art walk.
"George Johnson came to me at the Round-Up and asked if we'd bring in some artists to show their works for that, which we did," noted Orsini. "He wanted to create an art festival but after talking with the artists who participated in that and other artists, they said they didn't feel it was an appropriate place at this time for trying to display and sell fine art work. So, I came up with the idea of an art walk."
Orsini wants this event to be different than counterparts in neighboring communities and is tentatively calling it the "Rainier Art Splash: A Unique Art Walk" where she plans on displaying other mediums for art other than just sculptures.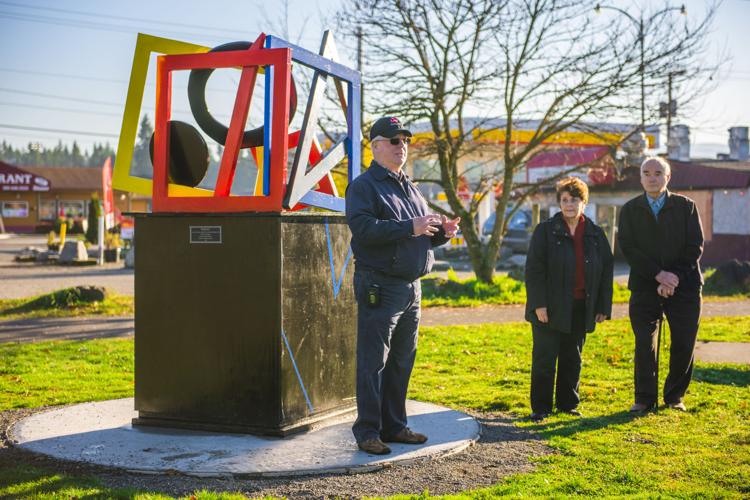 Planning is still underway for this event, but in the meantime, council members are still seeking donations of sculptures from local artists to be placed along the trail in Rainier.