Ma is also asking his audiences to consider how this music might help us become more attuned to our shared humanity. Here he took further inspiration from the opening Welcome to Country, especially its exhortation to reflect on why preserving shared culture matters.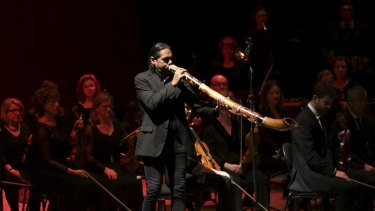 When he came to perform the sombre Suite no. 5, Ma suggested that such music can also help us come to terms with grief and loss (In 2011 he had performed the Sarabande from the Suite No. 1 at Ground Zero to mark the tenth anniversary of 9/11).
As an encore, Ma invited virtuoso Aboriginal didgeridoo player (and fine singer) William Barton onto stage and the two then improvised on an Indigenous song. Thus a concert by a Paris-born Chinese-American cellist performing Bach concluded with a joyous communion with Indigenous Australian culture. The symbolism could not have been more powerful.