"No, no, I was just thinking about the next job," she says. "That's the thing about this industry, you can't plan, I don't know what's coming up next, hopefully, season two [of Total Control], but the reality is I don't know when my next job is."
But the prestigious nomination isn't the only thing Mailman was celebrating. The Mount Isa-raised actress, who has stared in Offspring, The Sapphires and The Secret Life Of Us, commends the industry for the representation of people of colour on-screen.
"It means everything to me, it's who I am, I think it's important to a lot of young Indigenous kids out there, women and our boys see their stories represented and reflected on screen," she says.
"It's important for all nationalities to be represented."
Stars attending Wednesday's ceremony included Rodger Corser, Michelle Payne and brother Stevie, as well as Asher Keddie and Jacki Weaver, who are both up for Best Guest or Supporting Actress in a TV drama for their respective shows The Cry and Bloom.
Aussie ex-pat Damon Herriman is up for four awards and now holds the record for the most nominations across performance categories in one year. The Adelaide-raised actor, who starred as Charles Manson in Quentin Tarantino's Once Upon a Time in Hollywood, is being recognised for his work on local productions including Judy & Punch and The Nightingale.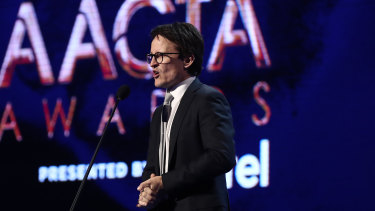 Veteran actor Sam Neill will receive this year's lifetime achievement award, the Longford Lyell Award, which is named after Australian filmmaker Raymond Longford.
The prestigious award recognises people who have demonstrated long-term commitment to excellence in film and TV.