Giant sculptures submerged underwater—accessible primarily to divers and snorkelers—are part tourist attraction, part ecological experiment in Jason deCaires Taylor's innovative art installations. These underwater gardens were pioneered by deCaires Taylor, a British environmentalist and sculptor who calls attention to the huge threats to ocean life—from rising sea temperatures to pollution—with his breathtaking art exhibits that also double as artificial reefs creating new marine ecosystems.
Coral reefs protect shores from erosion and support an extensive diversity of marine life. About 25 percent of the ocean's marine life depend on healthy reefs for shelter and food, yet 40 percent of the world's coral reefs have been damaged over the last several decades due to factors such as global warming, overfishing and irresponsible tourism, and scientists warn even more are at risk.
Creating the world's first underwater sculpture park in Grenada in 2006, and with over 1,000 underwater artworks across the globe, deCaires Taylor has artfully highlighted the threats to our oceans while actively helping to creating new life in them.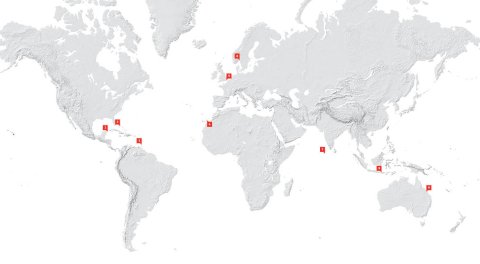 1. The Silent Evolution
Isla Mujeres, Mexico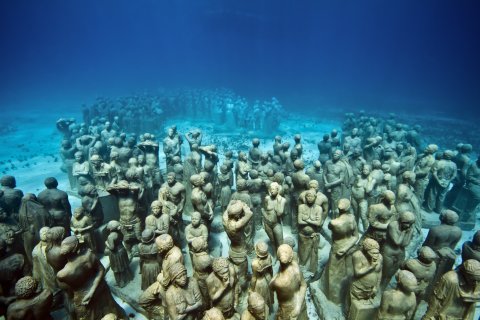 The Silent Evolution Isla Mujeres, Mexico Off the Cancun coast, this sculpture garden of more than 400 life-size submerged statues was cast from locals from a nearby fishing village who are now immortalized guarding their oceans. Ten years old, the man-made reef is already home to more than 2,000 juvenile corals.
2. Ocean Atlas
Nassau, Bahamas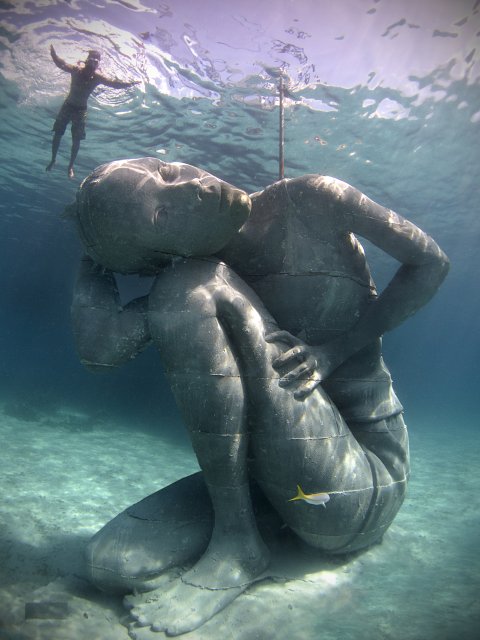 Off the coast of Nassau sits the world's largest underwater sculpture, shallow enough for both snorkelers and divers to view. This 60-ton, 16-foot tall statue of a young Bahamian girl appears to hold up the ocean, just like her Greek namesake Atlas, who mythology says suspended the heavens.
3. Molinere Underwater Sculpture Park
Grenada, West Indies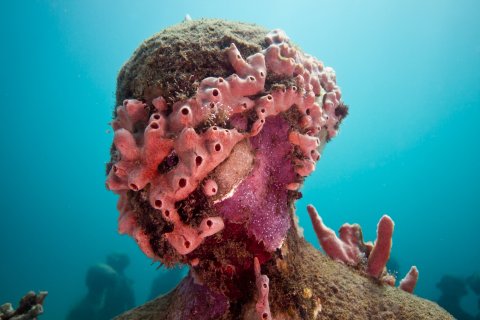 Installed in 2006 after Molinere Bay suffered devastating damage from the 2004 Hurricane Ivan, these 75 submerged art pieces formed the world's first underwater sculpture park and was named one of National Geographic's 25 Wonders of the World. It now provides a new base for marine life to proliferate, and it also draws divers, snorkelers and glass-bottomed boats away from more fragile reefs nearby.
4. Museo Atlántico
Playa Blanca, Canary Islands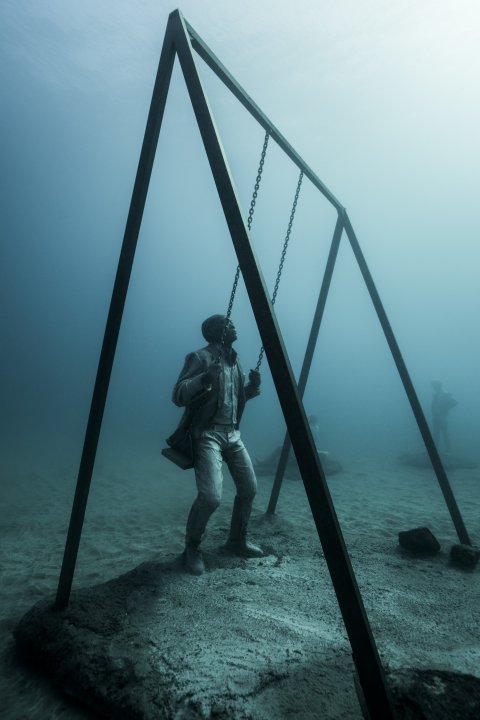 This first underwater art museum in Europe, opened in 2016, is accessible to both divers and snorkelers. The submerged museum holds over 300 life-size casts including The Rubicon—35 figures walking toward an underwater wall, seemingly sleepwalking through the demise of the natural world and climate change.
5. The Rising Tide
London, U.K.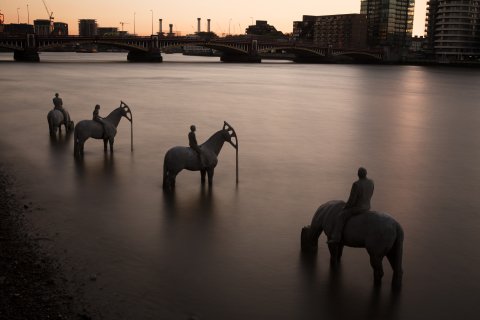 Unlike most of deCaires Taylor's works, these sculptures can be seen from land, on the banks of the River Thames, emerging during low tide. Within sight of the Houses of Parliament, they are a nod to the Four Horsemen of the Apocalypse and are a reminder of rising sea levels and the denial of climate change.
6. Nexus
Oslo, Norway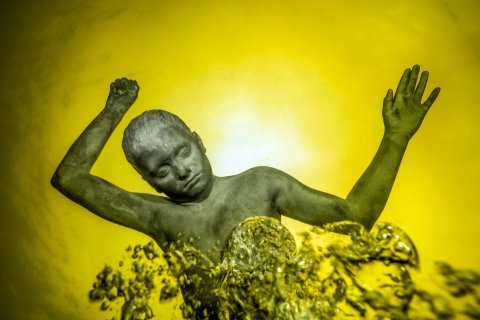 Commissioned by a children's art center, these floating sculptures both in and on the Oslo fjords—visible underwater and by glass-bottomed canoe—are monitored by the children as the figures are colonized by marine life. For divers delving deeper into the inlet, fresh water gives way to green salt water, creating mesmerizing aquatic filters against the sculptures.
7. Coralarium
Sirru Fen Fushi, Maldives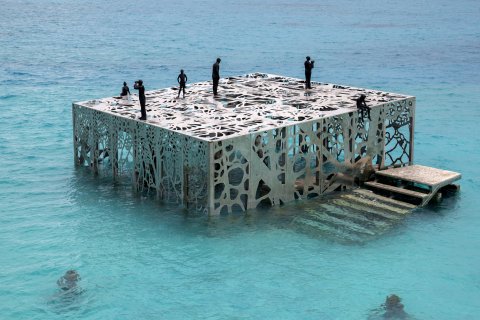 This 2018 tidal art installation—a metallic cube structure—sits partially submerged in a clear, shallow lagoon. Snorkelers and divers can see sculptures inside it underwater or climb to the roof where more human-like figures rest. As the tide recedes, more of the cube is visible, and over time it will become a foundation for a new ecosystem.
8. Nest
Gili Meno, Indonesia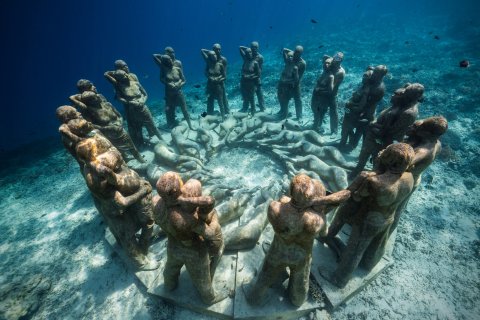 On a small island near Bali, known for clear waters and turtles, lie these 48 life-size cement figures. The embracing couples encircling additional curled-up figures on the seafloor are a home for teeming marine life and regenerating coral. Resting on the seafloor and only 13 feet deep, divers, snorkelers and glass-bottomed boats visit daily.
9. Museum of Underwater Art
Great Barrier Reef, Australia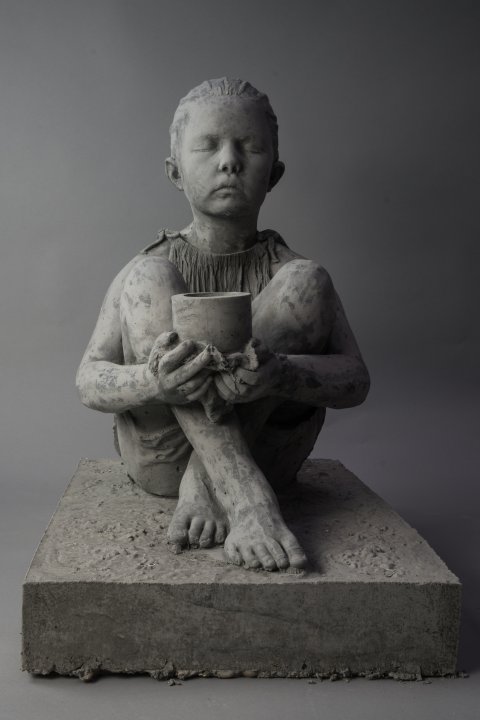 Expected to open to the public in early 2020, deCaires Taylor's latest project aims to rehabilitate parts of the world's largest reef system. Works in the underwater museum include a partially-submerged figure that changes color as the sea warms and which can be seen from shore, and even a submerged coral-covered greenhouse.